Virginia Hoffman is a long-term resident of Sarasota, Florida. She has been here nearly fifty years and maintains an active art studio in the downtown Lime Avenue ILW district.
As an established member of the arts community, Virginia has professional relationships with numerous local fabricators and material supply resources. These relationships enable her to fabricate high quality commissioned work for residential, commercial, liturgical and public projects.
Virginia's involvement with public art can be traced back to 1991 when she began work as a creator, advisor and coordinator. Later, Virginia served on the City of Sarasota public art advisory board for eight years. There, she provided input for the mandatory and subjective criteria of many public art projects. Currently, Virginia offers her expertise in commission management including all aspects of project development, site analysis and project management.
Mission: It is my mission to practice a fully engaged life without limitations on my creative enthusiasm, object making and community service endeavors.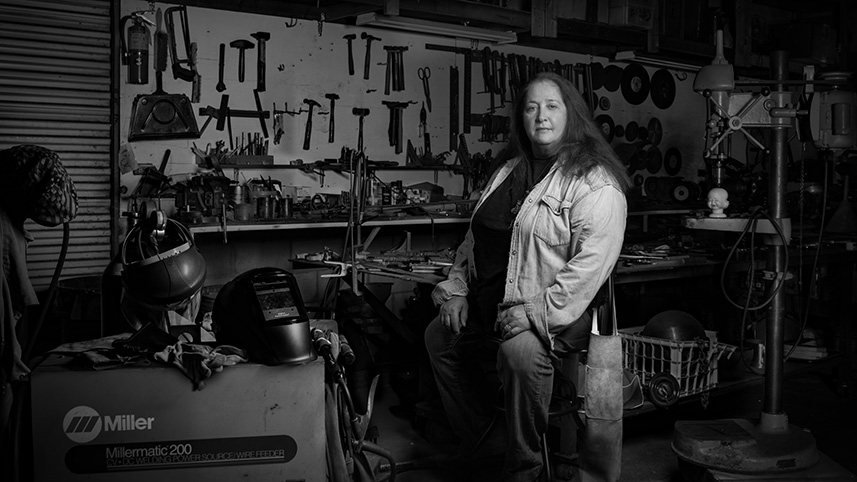 Resume ¦ Virginia Hoffman, Artist
Professional Experience Summary:
• Established studio specializing in architectural glass 1979
• Developed fabricated glass sculpture process 1985
• Expanded to product design including furniture, lighting, décor items 1990
• Expanded into large scale metal and glass sculpture projects 1991
• Executed municipal and state public art projects 1990- 1995
• Municipal Public Art advisory board City of Sarasota 2002-2012
• Volunteer Public Art Coordinator, City of Sarasota 2013-14 Education:
• 1975-1978 Ringling School of Art, Graphic Design Degree
• 1974-1975 USF Tampa, Fine
Arts Professional Development:
• 1993 Design Seminar at Derix Studio Tanusstein, Germany
• 1991 International Sculpture Conference, Cleveland, OH
• 1985 Design Seminar with Joachim Klos and Lutz Haufschild, Pilchuck School, WA • 1982 Intensive on painted & acid etching glass with Artist /Author Albinas Elskus
• 1981 Design Seminar with West German designer & student of the Bau Hous Ludwig Schaffrath
Selected Commissions/Collections:
• City of Sarasota, Main Street Extension, Project Public Art
• Florida Highway Patrol Station Broward County, Public Art
• Arvida Longboat Condominium, Public Art
• Publix Corporation, Longboat Key FL, Glass Art
• Publix Corporation, Lakeland FL, Sculpture
• Cancer Care Center, Bradenton, FL, Glass Art • Cancer Care Center, Sebring, FL, Glass Art
• Venice Hospice Center, Venice, FL Glass Art • Tropicana Corporation, Bradenton, FL, Sculpture Premiere Achievement Award. • R.C.A. Records, Nashville, TN Sculpture
• R.J. Reynolds Corp., Winston-Salem, NC Sculpture • Anacomp Co., Sarasota, FL, Super graphic mural • Arvida Corp., Longboat Key, FL, Glass Art
• St. Thomas Moore Church, Sarasota, FL, Glass Art, Sculpture • St. Martha's Catholic Church, Sarasota, FL, Glass art
• Temple Beth Shalom, Sarasota, FL, Glass art and appointments
• Chop House Grill Restaurant, Sarasota, FL Glass art
• Levy County State Bank, Chiefland, FL, Architectural painted floor
• Quick Care Clinic, Sarasota, FL, Glass art
• Barnett Bank Center, Sarasota, FL, Glass art
• Jockey International, Chicago, IL, Glass Art
• Sarasota Board of Realtors, Sarasota, FL, Glass Art
• Yale Properties, Sanctuary Club House, Longboat Key, FL, Glass Art
• Risrorp, Sarasota, FL, Glass Art
Awards & Accomplishments:
• Scholarship to attend Derix Studio Design Seminar in Germany
• Art in Public Places Commission, Florida Highway Patrol Station
• Art in Public Places Finalist - Island Park Sculpture, City of Sarasota, FL
• Pilchuck School Scholarship • Ringling School of Art, 3rd Year Gold Seal
• Florida State Fair Scholarship
• Penwomen's Society Scholarship Feature Articles and
Reviews:
• St. Petersburg Times Style Section feature story. 2008
• Featured Home and Garden Network "Modern Masters" series 2003
• Florida Architecture 52nd Annual Edition, 1992
• Professional Stained Glass Magazine, March 1991 • West Coast Woman, June/July 1991
• Sarasota Herald Tribune, 10/92, 2/92, 5/91, 9/90,12/89,10/89,6/89
• Sarasota Magazine, Oct. 1991
• Sarasota Arts Review, Sept./Oct. 1991
• American Craft Magazine, 1992, 1990, 1985 • Glass Art Magazine, Jan./Feb. 1987, Commission Section • The Guild, 1985-1987
• Neus Glass Magazine, Winter 1988, "Screens"
• Clubhouse Magazine, Oct. 1985, "Design Showcase Memberships:
•American Crafts Council
• Glass Arts Society • Florida Craftsmen Association
• International Sculpture Center
• Women's Caucus for Art
• Designer Resource Alumni with Sarasota ASID. Sarasota County Arts Council
• SCAC Visual Arts Task Force (founding member). ARTarget (founding member)
• American Society of Furniture Artists